INDUSTRY
Haldia: West Bengal's dream for 21st century By our special correspondent Haldia Petrochemicals Ltd., the mega petrochemicals project in Eastern India and the country's third largest integrated grassroots petrochemicals plant will start commercial production of over a million tonnes per annum of polymers and liquid co-products in just a year from now.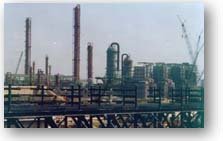 The use of plastic products is here to stay. New products are being developed and new product uses are being discovered all the time. In some instances, plastic products offer an alternative to conventional products that is cheaper as well as environment friendly. This is true of furniture, crates, packaging material, pallets and other similar products which traditionally make use of wood. Plastic alternatives save wood, thereby helping the drive against deforestation.
In agriculture, the use of plastic in pipes and sprinklers is increasing because similar products using non-durable materials waste precious water resources. Soft, unbreakable plastic toys without sharp, metallic edges are child-friendly. Around the world, in schools, homes, hospitals, entertainment centres, restaurants, shops and offices ….. the use of plastics keeps growing every day. This is why, the developed countries have an annual per capita plastic consumption figure of around 70 kilogram (USA) and 130 kilogram (Japan). In comparison, the per capita consumption figure in India is around 2.2. kilogram.
Despite the low consumption figures, the plastic industry is a high growth one in India and the domestic demand for plastic products is expected to double from 2 million tonnes in 1997-98, to 4 million tonnes by 2000 - 01. The cumulative annual rate of growth is currently 16%. With population figures set to cross one billion by 2000 AD, India promises to be one of the fastest growing petrochemical markets in Asia, in the new millenium.
The combined annual turnover of the plastics processing industry in the country is around Rs. 25,000 crore today. To support this, around 40% of raw materials have to be imported, incurring a massive outflow of foreign exchange. In this scenario, Haldia Petrochemicals Ltd. will significantly reduce the shortage of raw materials by increasing domestic capacity, achieve import substitution and most importantly, provide a first-time opportunity for the Eastern region to accelerate development and growth in the plastics processing industry.
According to Mr. D.P. Patra, Managing, Director WBIDC ' Haldia Petrochemicals Ltd. has now entered a countdown phase.'
What is the actual position of progress of Haldia petrochem?
In Naptha cracher unit the tall towers have been erected and work is now in progress for internal construction. All major machinery has been placed in position and only a few are yet to be received. Piping erection and testing are currently under way. The tallest tower in the NCU is the propylene Fractionator which was erected by Toyo Engineering Corporation of Japan on September 8, 1998. Its total height is 96.73 metres. Most of the tall towers erected by Toyo Engineering Corporation have been site fabricated and assembled, while a few rest have been brought to the site and erected directly on the foundation. Structural erection is in the final phase of completion for the Benzene and Butadience Plants and equipment erection together with piping work has commenced. Major civil work in PP & HDPE PLANTS will be over by the end of November 1998. Piping and erection work is under way. Major civil work for LLDPE PLANT is now in progress. Simultaneously, fabrication work is also under way. The IOP plants that need to be commissioned first are now in the final stages of completion : Raw Water Pipelines and Pumping Stations, Water Pre-Treatment Plant, DM Plant and Cooling Water System. Pre-commissioning activity in these plants is expected to start by mid – December 1998.
On October 30, 1998 the energising of the 132 KV Power Trnsmission Line at WBSEB's Switchyard at the Haldia Petrochemicals Site was a momentous occasion. This was the first permanent installation to be commissioned at the Rs. 5170 crore project in Eastern India.
The opportunities for polymer conversion in downstream industries based on raw materials from Petrochemicals Ltd. Are immense. To name just a few:
LLDPE : Liquid Packaging, Stretch Film, Roto-Moulded Products, Sacks, Liners,
Shopping bags, Lamination Film, Water tanks, Wire and Cable Compounds,
Synthetic Paper, etc.
HDPE : Crates & Bins, Moulded Luggage, Bottle Caps, Toys, Ropes, Nets, Barrels,
Jerry Cans, Geotextiles, Tarpaulins, Houseware, Containers, etc.
PP : Moulded Furniture, BOPP Film, Raffia, Fibre and Filament, Files & Folders,
Medical & Healthcare Products, Automobile Components, etc.
Another importance industrial project, which coming up in Haldia is Mitsubishi Chemicals Plant of Rs. 1500 crore.
The required land for the project and the residential colonies al Haldia have been provided by the State Government Authorities. Soil investigation, site grading, piling work and foundation activities are nearing completion. About 95% of the engineering work has been completed and most of the equipment and materials have started reaching the plant site. HAD is now lying the pipeline through PHE Department for Basudebpur Water Works to supply 4.5 MGD water to the plant.
The company has established full fledged offices in Calcutta and Haldia. 25 Engineers are undergoing training abroad. These Engineers along with a dozen Japanese Experts will be stationed in Haldia by March / April 1999. The project will be ready for commissioning by the beginning of 2000 A.D.
Approvals have been obtained from WBPCB, Ministry of Environment & Forest, Approvals from CCE, IBR and TAC have also been received / are being received. The approval from WBSEB for setting up a Captive Power Plant for the Plant Site (5X5 MW DG Sets) and that of Grid Power for the Township have been received. GOI has approved the import of equipment worth approximately US$ 130 million.
98% equity contribution from the promoters for the project has already been received. 100% loan from Foreign and Indian Financial Institutions have already been tied up and about one-third loan has already been drawn from Foreign Institutions / Banks. Necessary approvals from GOI and Reserve Bank of India have been obtained for the release of payment as per terms of agreement to overseas contractors and suppliers.
State Government and other agencies are seriously working on the infrastructural progress for Haldia. To meet the requirements of the giant projects like Haldia Petrochem, Mitsubishi Chemicals Plant and others water supply, internal roads condition, drainage system, housing and social infrastructural, land, power supply are to be improved. The committee on infrastructure, formed by the state government are coordinating with all concerned departments to improve this facilities in Haldia.