EDITORIAL
FROM THE EDITOR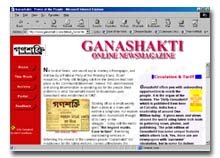 Welcome in the Ganashakti Online. Starting as a small Bengali weekly in 1934, without even a telephone, now it is taking step in Internet.

Since its emergence, in the face of severe repression, it always upholds the cause of the politically, economically and socially oppressed people. That is why with the patronisation, cooperation and support of the people, despite ups and downs, since 1967, passing various phases as fortnightly, weekly, evening daily, ultimately since May 1, 1986 Ganashakti is being published regularly as morning daily.

Ganashakti as a paper of the people, had ever played and is playing significant role in projecting objective reports, views, features and the tasks ahead in fulfilling the needs of the readers, who are in the midst of fierce struggle.

The role of Ganashakti has increased tremendously with the changes in the political scenario and continuation of Left Front Govt. in West Bengal since 1977. The success of the Left Front Government has created much inquisitiveness among the people around the world. In the face of the intensified slanderous campaign of enemies against the Left Front and the democratic people, to project the objective picture before them, it was felt necessary to start weekly Online Edition of Ganashakti in English.

Today the first edition of Ganashakti Online is being published. Since now, this will be published on every Monday and will cover Economist's Analysis on Indian Situation, West Bengal Left Front Govt.'s Experience, Industry and Commerce, Science and Technology, Document of Communist Movement, Current Affairs, Traveler's Diary, Entertainment Features etc.

We are interested to have the views of the Internet passerby in India and overseas. We are sure with their patronage this step will be expanded in near future.

16th November, 1998.