PRESS RELEASE
Ganashakti Online Launched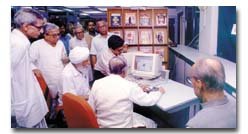 Today the first edition of Ganashakti Online is being published. Chittabrata Majumder, editor in chief of online edition has announced the inauguration of Internet edition. Jyoti Basu, Chief Minister of West Bengal has formally launched the edition by a click on the monitor at Ganashakti office on 16th Nove.'98 at 12 noon. Harkishen Singh Surjeet, General Secretary of CPI(M) has opened the photo gallery of International Communist leaders on this website. Benoy Chowdhury, Sailen Dasgupta, Anil Biswas, Biman Basu, Sudhangshu Dasgupta were present in this occasion. Since now, this will be published on every Monday and will cover General News, Economist's Analysis on Indian Situation, West Bengal Left Front Govt.'s Experience, Industry and Commerce, Science and Technology, Document of Communist Movement, Current Affairs Traveler's Diary, Entertainment Features etc.

The 1st edition covers the issues and events like Price Rise, Closure of Public Sector units, Poll race in 4 states, Judgement in Bangladesh and Calcutta Film Festival.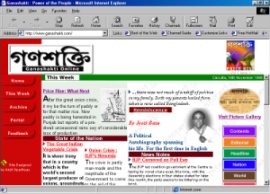 In Ganashakti on line Internet viewer will find the Political autobiography of Jyoti Basu, Documents of CPI(M) and Communist Movement in India, photo galleries Jyoti Basu , history of Ganashakti and Communist Leaders of the world and India.

Ganashakti Internet News Magazine's inaugural issue has an emphasis on West Bengal. The issue has focussed the progress of Haldia Petrochem and state govt.'s achievement in state undertaking.

It has a unique portal page making it a gateway to the Internet world. A comprehensive archive with communist documents, biographies on communist leades, and historical documents. Also an online feedback form.

Ganashakti intends to make the site, multimedia compliant with proposed addition of mass and folk songs of Bengal. Important speeches, and even relevant video files.On every Monday, 12 noon IST the new issue will be released. The address of Ganashakti on line is :

www.ganashakti.com
16th November 1998
---


Search Site

Ganashakti Newsmagazine
74A Acharya Jagadish Chandra Bose Road
Calcutta,India 700016
email: mail@ganashakti.co.in
Tel: 91-33-2458950 Fax: 91-33-2456263
Mirror Web Sites : USA INDIA
©Ganashakti, Reproduction in any form without permission prohibited



Home Week Archive Portal Feedback
Content Editorial Headline World Nation Bengal Column Feature

Contact Us
Site Designed and Hosted by Arijit Upadhyay