SPORTS
LEADING QUESTION
Prise Rise, What Next...
Price Rise..and now what is coming on rice front.
Expert Comments : State of Public Sector
Opinion and analysis by Senior Parliamentarian



Science
Meteor Storm in the sky
Leonid Meteor on 17th Nov .
Arts
Film Festival Calcutta
Sports
Leading Question
By Sports Correspondent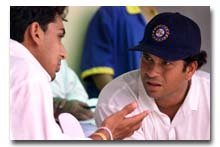 At an age when most others would have been grappling with a new job, Sachin Ramesh Tendulkar does not seem to have much of any work left. It is quite futile to talk about statistics when it comes to this boy who has suddenly turned man much to the annoyance of most of the bowlers the world around, but it amazing the way he has gone about it. The other legend that he is being compared with, the great and only Sir Donald Bradman, has said that the young master goes about scoring his runs and make life miserable almost in the same manner that used to be the curse of English bowlers in the Thirties and Forties, but our only plight is that we have not seen how the elder enigma went about it in the middle. If Sachin's repertoire is anything to go by, then it would have been a delight to have seen both of them on the battlefield together. But unfortunately, the dictates of Time does not allow for that and we have to rest content with what we have. Mr Sachin Ramesh Tendulkar to be precise.

This clalendar year has been the best for Sachin till date; he has scored runs freely and at 25, he is already the holder of the maximum number of centuries in both forms of the game. It would be, yet again, quite futile to dwell on his statistics but for those who feel that he has nothing to prove any longer, it would be worthwhile to remember that there is only one form of the game where he has not performed consistently: the captaincy. Obviously, leading the team from the front has not been Sachin's forte and as captain, he has not proved the unqualified success as much as he has been as a batsman and bowler. That is something that almost all of us are forgetting even as we are eulogising the man.
Cases abound in the history of the game of great batsmen who have failed as captain and vice versa. Mansoor Ali Khan was the nawab as far as captaincy was concerned but in the 35-odd Tests he played, he could average only slightly above 30 with five centuries. Similarly, Sachin can be pardoned for that; he is a great batsman_that stuff of legend_ and surely he cannot be faulted for being an average captain. But what we tend to forget is that Sachin is not seen to be an ordinary mortal like Mansoor Ali Khan; after all, was not Sir Don a great captain too? The advice for the young blaster would be to get over his failings as a captain and don the mantle again only to prove all the sceptics wrong and emerge as a super power which undoubtedly he is. The fact that he is almost equal to the Don when it comes to batting alone has already been established; what we now want from him is to get over just his passion for the willow and reestablish himself as the undoubted successor to the Knight of Australia. We have a great batsman in Sachin, what we now want is a greater captain in Tendulkar.