COMMENT
DRUMS OF DESTINY IN DHAKA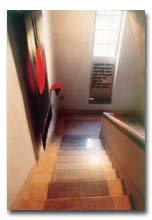 Blood Stained staircase: day of Mujib Murder
It brings a sense of relief as a good neighbour to learn that some of Bangabandhu Sheikh Mujibur Rahman's killers have finally been brought to book and that the present Prime Minister of Bangladesh, Sheikh Hasina Wazed, has delivered in keeping her promise that she would not rest till her father's murderers got the punishment they deserved. In a landmark judgement, a Bangladesh court has held 15 people guilty of killing the founder of the nation on August 15,1975 and no amount of repentance in the name of the lord can possibly take away from their crime. The Bangabandhu was killed in cold blood and not even children and women were spared, making the assassination even more gruesome. The last words of the Bangabandhu were almost helpless; they also betrayed a sense of disbelief: ``Why are you killing me...I have always treated you as my sons.'' But no amount of his baritone did help and in the end, what was left of his Dhanmundi residence were only dead bodies. The major proponent of the crime, Major Dalim, was rewarded by the following Government of a dictator and most of the others either got plum postings abroad or at home.
However, while Sheikh Hasin'a personal victory cannot be marginalised in these times of great unrest in Bangladesh, it is the manner of the punishment which raises some questions about propriety. The court has ordered public executions; whether that is what a modern society can afford to be witness to is by far the singlemost important question uppermost in the minds of the sane throughout the world. It is a fact that there is nothing better than deterrant punishment for all the world to see, but what effect public executions can have on the psyche of a nation already plagued by violence and poverty may be hard to fathom at this point of time. The executors of the Bangabandhu do deserve to be given the final punishment but if that serves only to dramatise greater violence in the country may be a question, which the head of Government of our neighbour should well ask herself.
Strangely, even as the Mujib killers are making history in Bangladesh, another controversial issue and a matter of public debate in Dhaka seems to be quietly being buried because of the exigencies of politics. Tasleema Nasreen is a household name in Bangladesh and albeit India too. Where she is now in hiding nobody seems to know. Except perhaps her own Government. It is obvious that the Hasina Government is playing to the gallery as far as Tasleema Nasreen is concerned; it is also equally obvious that the Government knows exactly where she is. Which brings us to a fundamental query: is the Hasina Government supportive of Nasreen or not? If it is, which we are not sure of, then it is time that she is rehabiliated beside her ailing mother; if it is not, then the government should come public on that. The government cannot tinker around with public morality which is exactly what is becoming of the Tasleema issue in Dhaka. Either of the warring sides have to be correct. And it is the government's duty to let its voter know that. And not get cowed down by political understandings of any situation.