COMMENT
Indian Scientist Victimised for Criticising Pokhran - II
Tin Soldiers and Rootless grass
Bal Thackeray, who could well give even Adolf Hitler a run for his money , sends out diktats about culture and its ethics which border on neo-fascist..counter this with scene in Bengal..
Comment
Scientist victimised for critising Pokhran II


Science
People's Science Congress
A reportage on All India science congress.
Sports
Formula for sucess
Grand Prix car racing at Calcutta
by our Science Correspondent
State coercion against freedom of expression of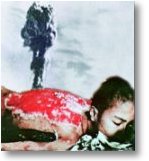 an individual has once again been demonstrated through the disciplinary action initiated against Dr. T. Jayaraman, a senior scientist of the Institute of Mathematical Science, Chennai which is under the Department of Atomic Energy, Govt. of India.
Dr. Jayaraman, a Reader of Theoretical Physics in IMSc. Chennai was critical about the present Nuclear Policy of the govt. of India and against DAE's attitude towards this. Along with 75 other scientists, he was a signatory to the May 18 Statement against the POKHRAN - II Tests of 11th and 13th May 1998. Being a scientist with concern for healthy growth of Science & Technology in the country, Dr. Jayaraman wrote and spoke against Nuclear Weaponisation in the Subcontinent and globally. One of his article was published in SEMINAR a distinguished socioeconomic journal in August 1998 issue and was later reproduced by the group of Indian Scientists against Nuclear Weapons in a publication titled Voices against Nuclear Weapons.
At the insistence of Dr. R. Chidambaram Chairman Atomic Energy Commission and also the the Chairman of IMSc's Governing Council, the IMSc issued show-cause notice to Dr. Jayaraman on 21st August 1998 warning him that making any public statement of fact or opinion, which has the effect of adverse criticism of any current policy of action of the government / Institute is prohibited. The letter issued by Dr. Ramchandran, Director IMSc, described the Seminar article as violative of Conduct Rule and identified it as a message of political nature against the party in power and hence the Government at present on its policies and actions.
Dr. Jayaraman, in reply dated 31st August 1998, defended his right as a scientist and citizen to comment on matters of Science Policy in the public interest and re-iterated his responsible performance of this role. He also referred Article 19 of Indian Constitution that empowers ordinary citizens to exercise the Fundamental right of Free Expression.
But subsequent to this, Dr. R. Chidambaram when in Chennai for IMSc's Governing Council Meeting re-iterated his demand to take action against Dr. T. Jayaraman to curb Anti-Nuclear Weapon Activism in IMSc. He also threatened that if such activism persisted in the institute, the DAE would cut off its support to it. The issue has been aggravated by Dr. Jayaraman's recent article titled The CTBT and Scientific Issues published in Frontline (October 23rd Issue) and none other than Dr. Chidambaram is taking the course of personal vendetta against the scientific community.
The issue has assumed a broad perspective that it involves fundamental right for Freedom of Expression by a Scientist in particular and Citizen in general. A large section of the Scientific Community within the country has stood by the side of Dr. Jayaraman. Scientists from Indian Institute of Science, Bangalore, Tata institute of Fundamental Research, Mumbai, Institute of Physics, Bhubaneswar, regional Research Institute, Bangalore have taken the initiative along with IMSc. Indian scientists working in the Universities of Colonge and New York have also expressed their solidarity. On 6th November 1998 the protesting scientists have made their colleagues throughout the Country alert through e-mail, so that they could send appeals – either individually or on behalf of their institutions – to IMSc in Dr. Jayaraman's support.
If Dr. Chidamabram is allowed to proceed with his wishes, it would irrevocably damage the academic such draconian ANTI-SCIENCE / Anti People measures.