NEWSNOTES
TRAGEDY TAKES TWO HUNDRED TEN LIVES


On the wrong track
Train tragedy takes 200 lives again.


No Insurance for Insurance
Moves to privatise Insurance sector and protests ...
by Staff Reporter
In one of the worst accidents in the history of Indian Railways at least 210 passengers were killed and another 250 injured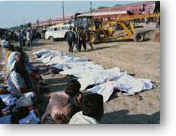 when the Sealdah-bound Jammu-Tawai Express rammed into three derailed coaches of the Amritsar Golden Temple Express (Frontier Mail), about 80 Kms from Chandigarh in the early hours of Thursday. The Frontier Mail was coming from the opposite direction. The collision sent the engine and seven coaches of the Jammu-Tawai Express and six coaches of the Frontier Mail off the rails blocking railway traffic on this section for at least 48 hours. The accident site was in Kauri village in Ludhiana district.
The impact of the collision is so severe that only about 130 bodies of the 211 passengers confirmed dead have so far been identified. The bodies are so maimed or mangled that their relatives were finding it extremely difficult to identify them. As the Jammu Tawai Express was Sealdah bound, some of the passengers injured in the accident have been brought to Calcutta. Others are being treated in Ludhiana.
The Chief Commissioner of Railway Safety will conduct an inquiry into the accident .He will submit a preliminary report on the accident to the Railway Minister for Railways, Mr. Nitish Kumar in a fortnight. Reports however, have it that the three bogies of the Frontier Mail got unhooked from the rest of the rake, jumped the rails and lay blocking the other line .The accident occurred when the Jammu-Tawai Express coming from the opposite direction hit the immobilized bogies of the Frontier Mail. In the past eleven months 396 railway accidents have occurred in the country compared to 381accidents taking place in the whole of 1996-97. Mechanical reasons or human failures were behind these accidents.
There has been a growing demand for improving the maintenance of the rolling stock of the railways or for probing the lack of seriousness among a section of the workers in maintaining the tracks. The BJP led Government's Railway Minister, Mr. Nitish Kumar although admitted that the railways appeared to be responsible for the accident in Kauri, he did not own up the responsibility. Neither would he resign on moral grounds. He told reporters in Dhanbad on Saturday that he would "take the appropriate" decision after receiving the report of the railway Safety Commissioner.
---


Search Site

Ganashakti Newsmagazine
74A Acharya Jagadish Chandra Bose Road
Calcutta,India 700016
email: mail@ganashakti.co.in
Tel: 91-33-2458950 Fax: 91-33-2456263
Mirror Web Sites : USA INDIA
©Ganashakti, Reproduction in any form without permission prohibited



Home Week Archive Portal Feedback
Content Editorial Headline World Nation Bengal Column Feature

Contact Us
Site Designed and Hosted by Arijit Upadhyay