Those path finders who have guided us through..some short portraits of International and National Communist Stalwarts. And links to sites relating to study on them. The archive is under developement and in no way complete.International
National
NATIONAL
SAROJ MUKHERJEE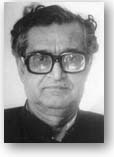 Saroj Mukherjee, Member of the Polit Bureau of the Party died on February 9, 1990. Comrade Saroj Mukherjee was the Secretary of the West Bengal State Committee of the Party and also the Chairman of Left Front of the state.
Comrade Saroj Mukherjee joined the freedom struggle as a young student at the age of 13. He joined the Indian National Congress in 1924. While a student, he came in contact with communist leaders like Muzaffar Ahmed. He became a member of the Communist Party in 1931. Becoming a whole timer in 1938, Saroj Mukhejee served the Party in many key positions. He was the secretary of the Calcutta district committee of the CPI from 1939 to 1943. He was a member of the secretariat of the West Bengal provincial committee from 1943 to 1948 and from 1951 to 1964.
At the time of the split in the Communist movement in India he took a firm stand against revisionism. Later in West Bengal he played a major role in the struggle against the left-sectarian deviation.
Comrade Saroj Mukherjee was elected to the Central Committee of the CPI(M) in 1978 at the Tenth Congress. He was elected to the Polit Bureau at the Twelfth Congress in 1985 and continued to be a member till his death. He assumed the secretaryship of the West Bengal State Committee of the CPI(M) in 1982.
He played a key role in developing the party newspapers in West Bengal with which he had a life-long association. He was the editor of the daily Swadhinata between 1956 and 1962. He was also the editor of the CPI(M)'s weekly Ganashakti from 1964 onwards and later the daily Ganashakti from 1967 and was the Chief Editor till his death. He wrote a number of books and pamphlets popularising Marxism-Leninism and the Party's policies.
Comrade Saroj Mukherjee will always be remembered as a communist leader who combined the finest qualities of patriotism and revolutionary commitment. He spent a total of eleven years in jail and five years underground. He was known for his affectionate behaviour and humility in dealing with all ranks of the Party and people from all walks of life. He died on February 9, 1990. His wife Kanak Mukherjee is a leader of the Party and women's movement.