NEWS NOTES
Sunday's CycloneNewsDesk


WBREDA
Renewable energy, pathbreaking efforts..


ECL Closure
Economic war against West Bengal
NEWSNOTES


Sunday Cyclone
A sudden climatatic freak..


Trekker's Camp
A new youth hostel at Darjeeling


Happenings Business Meet on renewable energy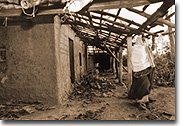 Cyclone Devastation in South Bengal
pic: Amit Kar
---
Sunday's cyclone has wrought havoc damaging or destroying thousands of houses in five south Bengal districts. Standing crops in these districts were also affected. The districts are Hooghly, Midnapore, North and South 24 Parganas and Nadia .There was, however , one death due to electrocution in Shyamnagar, North 24 Parganas. Preliminary reports said that eight thousand houses were razed to the ground and another 19 thousand were damaged. In Hooghly district 80%of kharif aman paddy has been submerged following heavy rain. Kharif aman crop loss was between 30 %and 35 % in South 24 Parganas and Midnapore districts between 15%and 20 %in North 24 Parganas and Nadia districts. Production of mustard which averages 6 lakh tons in the State annually will be seriously affected as standing crop of mustard in all these five districts has been destroyed. The Left Front Government in the State has announced that funds will be provided from the State's budget for repair of houses. Mink it will be distributed among the farmers for cultivation of boro paddy, wheat and vegetables. The State Government wants the farmers to go in for cultivation of boro paddy in larger areas in view of the anticipated shortfall in kharif aman production this year.
---


Search Site

Ganashakti Newsmagazine
74A Acharya Jagadish Chandra Bose Road
Calcutta,India 700016
email: mail@ganashakti.co.in
Tel: 91-33-2458950 Fax: 91-33-2456263
Mirror Web Sites : USA INDIA
©Ganashakti, Reproduction in any form without permission prohibited



Home Week Archive Portal Feedback
Content Editorial Headline World Nation Bengal Column Feature

Contact Us
Site Designed and Hosted by Arijit Upadhyay